Custom Work
At Hand & Hammer, we have many commercial and corporate clients. These include Tiffany & Co., AT&T, Pepsico, and many others. Many fine retailers, direct mail catalogs and department stores carry Hand & Hammer designs. We are particularly proud of our work with museums. Nearly every major museum and many smaller ones are customers for Hand & Hammer's specially designed and custom made jewelry and collectibles.

Custom Charms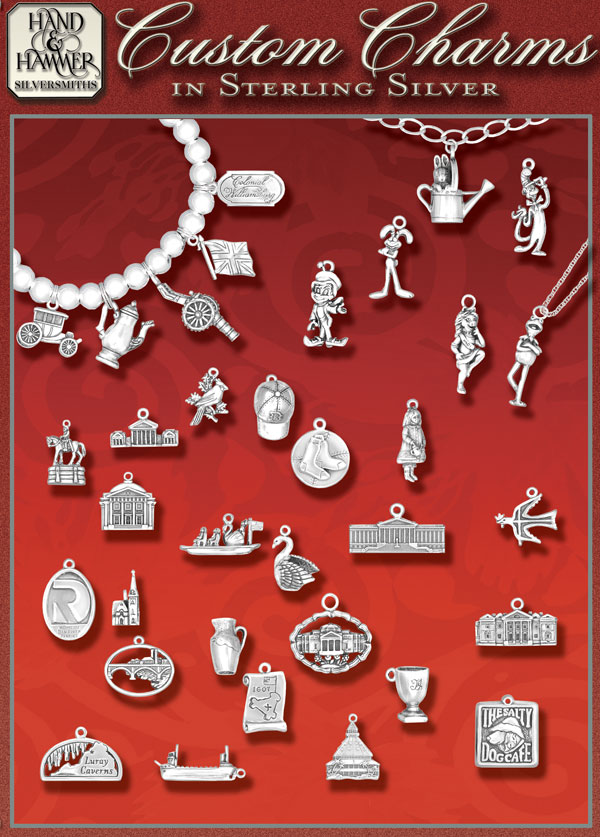 Top left: A series of over fifty sterling and gold charms for Colonial Williamsburg. Top right: One of two dozen Beatrix Potter licensed designs. One of ten licensed Dr. Seuss charms. Part of the Muppet collection for Jim Henson. Two of a group for General Mills. Center left: Part of a series of Richmond landmarks for Scwarzschild. A collection of Boston themes for Shreve, Crump and Low. Center right: Licensed Major League Baseball charms for Red Sox. A series of designs for the National Gallery. Treasury Buiding for the Treasury Dept. Mount Vernon's Dove. Bottom left: A selection of charms for Danville, VA. Monticello collection.
Ornaments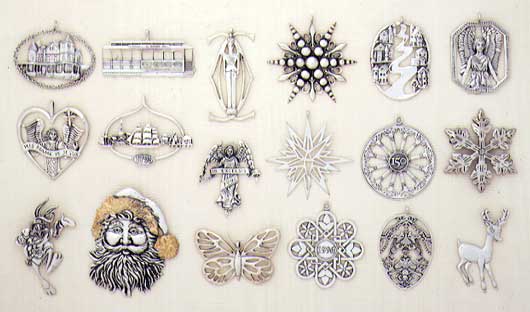 Top Row: Maymont ornament for Schwarzschild's; San Francisco cable car for Gump's; Soldier ornament for Cartier; Snowflake for Tiffany's; Lombard Street ornament for Shreve & Co., San Francisco; Thayer Angel for the Smithsonian.

Center Row: Heart of Christmas annual design for Peggy Hart; 1796 commemorative design for Shreve, Crump and Low, Boston; 1996 annual angel ornament for the United States Historical Society; Moravian Star for Old Salem; Rose Window 150th Anniversary ornament for the Smithsonian; Snowflake for the Nature Company.

Bottom Row: Bugs Bunny for Six Flags/Warner Bros.;Santa design for Jeff Stewart; Butterfly for Neiman-Marcus; 1996 Annual Snowflake design for Museum of Fine Arts, Boston; Faberge Egg for the Virginia Museum of Fine Arts; Reindeer for Lord & Taylor.


Hand & Hammer is the exclusive supplier of keys to initiates of the prestigious Phi Beta Kappa academic honor society.